PROFILUX 4 – DESIGNED TO PERFORM…RELIABLY
ProfiLux 4 is designed to standout from the crowd. From form to function, we've designed a product to withstand the test of time, all while being fitted into one small package. We've updated the hardware and added exciting new features not found on any other competitor's controller. Best of all, all existing GHL accessories and expansion cards will remain compatible with the ProfiLux 4!
The ProfiLux line of controllers are globally recognized for its outstanding accuracy and reliability. From hobbyists to research institutions, they all trust in the ProfiLux to provide them with highly accurate data and performance.
PROFILUX 4 – SUPERIOR IN FUNCTIONALITY AND DESIGN
ProfiLux 4 is the most advanced member of the ProfiLux® Aquarium Controller family. Its extensive selection of on-board connections provide everything the ambitious aquarist needs to achieve success.
From form to function, the ProfiLux 4 is well-equipped to manage important tasks such as lighting control, water parameter measurement/control, level control, pump control, and much more. Fitted with the most on-board connections available, the P4 also includes integrated modules for measuring Conductance (adjustable: fresh or saltwater), Temperature, pH, and Redox. Connections for level sensors, leakage sensors, and 1-10V interfaces are also included.
Built-in WiFI and USB connections ensure optimal connectivity to keep you well informed about the status of your aquarium via web interface, e-mail, and myGHL cloud service *)
The ProfiLux® Controller is globally recognized for its outstanding accuracy and reliability. From private users to research institutions, they all trust in the ProfiLux to provide them with highly accurate data and performance. The exceptional functionality of ProfiLux makes it the preferred controller of professionals and hobbyists alike.
ProfiLux 4 is designed to standout from the crowd. Offering switchable pH/redox and Conductivity inputs, laboratory grade measurement and accuracy, nearly limitless expansion options, rock-solid hardware, and much more. See for yourself, what it is like to own the ultimate in functionality.
The LED illuminated GHL Logo in the housing serves as a status indicator. It displays the condition of your aquarium by displaying various colors and tells you when something requires your attention.

Also available in attractive controller sets.
The controller provides 3 expansion slots on board for Expansion cards with additional sensor inputs, 1-10V outputs, PC interfaces, or Digital inputs. It is further expandable with the Expansion Box 2.
FUNCTIONS OF P4
Up to 32 independent channels of dimmable and non-dimmable lamps, freely adjustable
Sunrise and sunset
True calendar moon phase simulation
Cloud simulation with adjustable random generator, cloud cover, rainy days, seasonal lighting, Thunderstorm simulation
Acclimation program
Feed pause (4 different customizable preferences for pump behavior possible)
Measurement and control of Temperature, pH Values, Redox, Conductivity
Sequential temperature control for tubular heater, substrate heater and cooling, programmable nightly decrease, speed regulated fans controllable
Menu guided sensor calibration
Data log
Operation hour meter for all sensors
Universal analog and digital inputs
Level (level, leakage, automatic water change etc.)
Flow (stream)
Versatile Pump Controlling (up to 16 stream pumps independently controllable, several modes: High/low tide, surge, random and much more; different wave modes)
Operation hour meter for lamps
Burning-in mode for fluorescent tubes
Battery buffered real-time clock (RTC)
Digital Mitras Lightbar interface or RS232
Integrated webserver: Display of values and states, change of important settings, email client, DHCP
USB and WiFi
Cloud service myGHL®
Connection options for GHL Control Pad, Power-Failure-Monitor, AUX
Connectivity for radio-controlled clock receiver (DCF)
Programmable reminders
Control of 64 switchable sockets and dosing pumps
32 timers and dosing programs
Child protection via PIN code
No coding required
Settings are stored during power loss in nonvolatile memory (FRAM)
Computer is expandable with 3 add-on modules (2x external, 1x internal), with our Expansion Box 2 added, there are virtually no limits
Flexible extensions on the ProfiLux Aquatic Bus (Expansion Box 2 for example)
Multiple aquarium controllers can be networked
Alarm function, output of the alarm optical, acoustical or via switchable socket
Therapy Program for sick fishes
Maintenance programs
Notifications per email or SMS
Operation via convenient PC software (Free of charge)
Virus proof
GHL-developed operating system for aquatics, ProfiLuxOS
Additional features (with corresponding expansion card):
Measurement and control of oxygen, humidity and air temperature
Use of external signals (such as buttons) to control the ProfiLux
Lighting control via DALI
FEATURES
General
 
Dimensions
W x D x H: 220 x 150 x 55 mm / 8.66″ x 5.91″ x 2,17″
Delivery includes
Power supply, water temperature sensor, USB cable
Measurement and Control
pH-Value
√
Water temperature
√
Redox potential
√
Conductivity
√
Oxygen
Optional (Expansion Card can be retrofitted)
Relative humidity
Optional (Expansion Card can be retrofitted)
Air temperature
Optional (Expansion Card can be retrofitted)
Other IES (e.g. Ca)
In preparation
CH / Alkalinity
In preparation
Functions and Features
 
Lighting control channels
32
1-10 V interfaces
6 (optional 30)
Controllable, separately switchable sockets
64
Expansion slots
3 (2x external access, 1x internal access)
Dosing Pump control
√
Flow Pump control
√
Digital light control interface for Mitras Lightbar or RS232
√
USB interface
√
WiFi
√
Powerbar connections
2
Inputs level sensors / leakage detectors
4 (optional 16)
Power failure monitor connection
√
AUX connection
√
GHL Control Pad connection
√
DCF receiver connection
√
PAB connections
2
Expansion Box extension possible
√
Alarm
√, visually and acoustically
Graphical display
√
Integrated webserver and email client
√
Cloud service myGHL
√
Operating system
ProfiLuxOS
UNMATCHED EXPANSION OPTIONS
ProfiLux 4 includes a large selection of expansion options to suit the needs of any aquarist. When you need to add more functions, simply add an expansion card to one of the available expansion slots. No need to buy additional modules, just pop the card in and you're good to go.

Between Expansion Cards and Expansion Boxes, you can expand the ProfiLux to nearly no limit!
GCC, GHL CONNECT APP, CLOUD SERVICE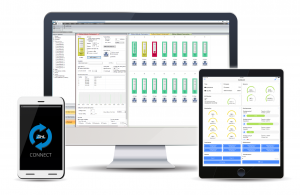 GHL Devices are easily accessible via the free PC software GCC , GHL Connect app and cloud service myGHL. (> learn more).
PROFILUX 4 RESOURCE GUIDE: HOW TO SETUP THE P4!
In our ProfiLux 4 Resource Guide, we show you how to setup your ProfiLux from the moment you take it out of the box. We've also included an easy to follow TO-DO list which shows new owners the steps to take as they get their controller up and running for the first time.
In this resource guide, you will find instructions for:
First time P4 setup
Wi-Fi setup
Basic temperature control
ATO / AWC control
Leakage detection
And so much more
Resource guide also includes:
Direct links to our HOW-TO videos
Shortcuts for accessing functions right from the P4 touch keys
To download this guide, simply follow this link:
https://www.dropbox.com/s/1fx33y4l9t81yxj/ProfiLux 4 Resource Guide.pdf?dl=0
PROFILUX 4 CONTROLLER INCLUDES
ProfiLux 4 controller, Black
ProfiLux 4 power supply
Water temperature sensor
USB cable 
PROFILUX 4 MEGA-SET 6E INCLUDES
ProfiLux 4 controller, Black
ProfiLux 4 power supply
Water temperature sensor
pH probe
Redox probe
Conductivity probe
Powerbar 6E-PAB with PAB-cable 2m
Calibration fluids (pH 7&9, 50ms, 220mV)
USB cable
Null plug