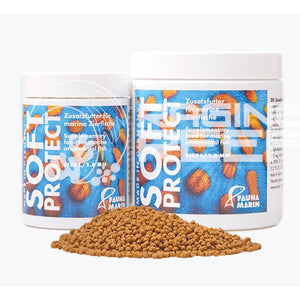 SOFT PROTECT: Complete feed for coral fish
Complete feed for coral fish. Special soft granular food for marine ornamental reef fish.
Supports the immune system and improves overall fish health. Perfect for after-import or other stressful situations.
FEEDING RECOMMENDATION: Feed small portions several times per day.
Granule-Sizes: "M": 1 mm, "L": 1,8 mm
INGREDIENTS: Whole fish and fish by-products, molluscs and crustaceans, oils and fats, algae, yeasts.
ADDITIVES per kg: Vitamin D3 (E671) 600 i.e.. TRACE ELEMENTS: Iron sulfate monohydrate (E1) 50 mg, calcium iodate, anhydrous (E2) 2.2 mg, copper sulfate pentahydrate (E4) 6 mg, manganese sulfate monohydrate (E5)17 mg, zinc sulfate monohydrate (E6) 120 mg, antioxidants 57 mg.
RAW INGREDIENTS: Protein 59%, fat 25%, fiber 11%, ash 1.2%.
DISCLAIMER: Use only for feeding ornamental fish. EXPIRY: See stamp.