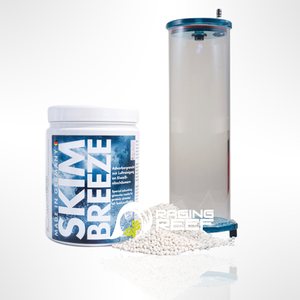 Fauna Marin Skim Breeze Reactor is the special air filter for connection to a protein skimmer for air purification and CO2 reduction.
With Skim Breeze granulat and Reactor you can stabilize the pH value in the aquarium at a consistently high level. By reducing the nutrients, algae growth is significantly reduced and coral growth is increased. Skim Breeze Reactor reduces the introduction of harmful gases such as cigarette smoke and CO2 into the skimmer.
Now available in a set - 1L Skim Breeze Reactor + 1L Skim Breeze Granulat (medium).
Dimensions of Skim Breeze Reactors
1 Litre - 29 cm tall with a base plate diameter of 9.5 cm -10 cm.
2.5 Litre - 34.8 cm tall with a base plate diameter of 13.3 cm -13.3 cm 
5 Litre - 35 cm tall with a base plate diameter of 16.5 cm - 17.5 cm 

Dosage Recommendation: To fill the filter, loosen the screw slightly, insert the appropriate hose adapter for the protein skimmer and close the filter cover. To add granulate carefully pour the Skim Breeze into the reactor and connect it to the skimmer. Do not add granules to the water. 1000 ml Skim Breeze per 500 liter aquarium volume: approx. 4-6 weeks.
Note: If the granulate is completely purple, it must be replaced. A re-coloring of the used material does not mean that it is active again. Medium for the Skim Breeze Reactor can be found here.
Technical Data
Ingredients: Calcium hydroxide (EC 215-137-3), sodium hydroxide (EC 215-283-8), zeolites (EC 215-283-8)
Safety Information: Read label before use. Keep out of the reach of children. Medium can cause severe burns to the skin and eye damage; do not inhale or ingest.
Storage: Always store the can closed and protected from direct sunlight. Protect from sunlight. Protect from moisture.