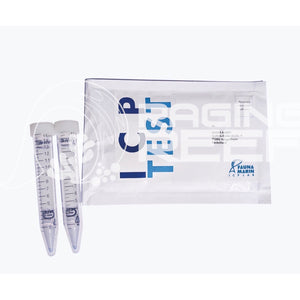 SIMPLE, FAST AND PRECISE
Fauna Marin Sea Water Research Lab Basic ICP TEST
The Fauna Marin Basic ICP Test gives a quick and easy overview of 37 water values in reef-aquariums.
From macroelements to trace elements and pollutants, you get a complete overview with corresponding dosage and action recommendations.

The Fauna Marin ICP Test is a pure ICP test:
    Pure ICP Test
    Fast, inexpensive and highly accurate
    Easy sampling and shipping
    Extremely fast laboratory analysis with real high performance emission spectrometers (ICP-OES)
    Individual dosage and action recommendations
    for all those who need a quick overview of their water values
    Basic test for 37 parameters in seawater

The following macro and trace elements are measured:
Sodium, magnesium, calcium, potassium, strontium, boron, iodine, sulphur, phosphate, phosphorus, silicon, manganese, lithium, molybdenum, iron, bromine, chromium, cobalt, beryllium, vanadium, zinc, antimony, copper, barium, selenium, cadmium, tin, aluminium, titanium, nickel, scandium, zirconium, silver, tungsten, lanthanum, arsenic, mercury.
Soon you will receive our comprehensive business laboratory test with even more water parameters - for everyone who wants to know it ALL.
After placing an order, you will receive your analysis kit for the water samples.
Each SLR ICP test set will include a peelable sticker with a sample number to identify your sample.
They are adhered to the sample vessels for identification. The sample number is your unique laboratory number.
It simplifies queries and is used to securely assign your samples.
After a few days, you will get the results of your samples and the dosing recommendations via email.