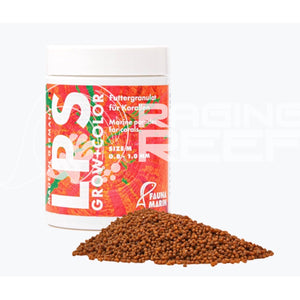 LPS Grow and Color: Compound feed for LPS corals.
Marine particles especially for LPS corals made from natural marine rawmaterials.
Fauna Marin LPS food was created especially for keeping coloured LPS corals and other AZOOX corals.
DOSING RECOMMENDATION:
2 x weekly feed the particles direct to the corals.
Shutdown your pumps and place one particel by Polyp to each coral.
Use the Fauna Marin ReefBuster for target feeding.
INGREDIENTS: Fish and fish by-products, molluscs and crustaceans, fats and oils.
ADDITIVES per kg: Vitamins: Vitamin D3 (E671) 600 i.E. Trace elements: Iron sulfate monohydrate (E1) 50 mg, calcium iodate, anhydrous (E2) 2.2 mg, copper sulfate pentahydrate (E4) 6 mg, manganese sulfate monohydrate (E5) 17 mg, zinc sulfate monohydrate (E6) 120 mg; ANTIOXIDANTS: 57 mg; Ingredients: Protein 75% , fat 16%, fibre 2%, ash 1%.
DOSING RECOMMENDATION: 2x weekly feed a few particles directly to the corals.
DISCLAIMER: Use only for feeding corals and ornamental fish.
EXPIRY: See stamp.