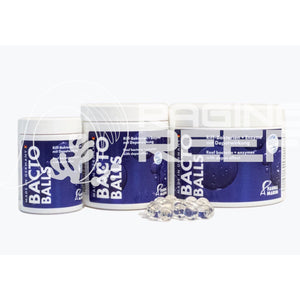 Millions of live reef-bacteria and enzymes in depot balls for easy dosing.
BACTO REEF BALLS EFFECT:
Crystal clear & healthy water, nutritioncontrol and easy reduction of ammonia, nitrite, nitrate and phosphates.
Cleans up organic waste and unwanted detritus, raises up skimming, reduces fi lter maintenance and eliminates unwanted bacteria and algeas.
Easy dosing - with the unique and long lasting depot effect.
CONTENT:
Millions of live natural marine bacteria in depotballs for marine aquaria.
Bacto Reef Balls 100ml contains ca 110 spheres, each ca. 1cm average diameter.
DOSING:
2 Reef Balls / 100 Liters (26,4 US Gal) / every 2 weeks directly in your filter. Avoid that balls soak into pumps.
Reef Balls are made from a biodegradable polymer. Variations in size and rates are normal.
SAFETY INSTRUCTIONS:
For use in Reefaquaria only, not meant for human consumption. Keep out of reach of children and animals. Wash your hands after use.
---
Bacto Reef Balls are the first fully available marine bacteria to feature nutrient control through the use of time release technology; depot controlled nutrient control.
High Efficiency Nutrient Control
BACTO REEF BALLS contain highly effective bacteria cultures that control nutrient levels ​​and help avoid unsightly algae growth in saltwater aquariums. Such results are achieved through the use of our timed-release carrier material.
Special Composition
The unique composition of our carrier material has been specially developed for use in seawater. It allows for a steady supply of diverse bacteria cultures to be added to the aquarium. Other materials such as normal gel acts as an additional carbon source and thus dissolves faster and makes controlled delivery impossible.
Ingeniously Simplified Dosing
Bacto Reef Balls are super easy to use. Simply place the necessary amount of Reef Balls into your filter and replace every 2 weeks when the original sphere is dissolved. Our seawater stable polymer matrix allows bacteria to be slowly added into the aquarium. A steady supply of beneficial bacteria removes the need for daily dosing and unwanted Dosage peaks.
Natural and Reef Safe
Bacto Reef Balls is the first bacteria-based product to feature time-release technology in a sphere. Both bacteria and carrier material are 100% reef safe and promote a healthy and natural aquarium. As soon as the bacteria is introduced into the aquarium, the bacteria begins its task and reduces nitrogens and phosphates. Our blend of bacteria has been specially developed to suit the needs of reef aquariums by providing a stable and diverse bacterial culture. Any excess bacteria becomes a food source for corals and protozoa and are skimmed by a protein skimmer.
BACTO REEF BALLS overview:
Crystal clear, healthy water
Simplifies nutrient control: reduces nitrogen and phosphates
Reduces unwanted algae growth
Provides cost-effective and efficient means of nutrient control
Supports natural bacterial flora
Eliminates annoying bacterial plaque and detritus build-up
Removes organic waste products
Reinforces the skimming process and minimizes cleaning intervals
Easy-to-follow dosage schedule
Unique depot effect, thereby effective for weeks per dose
DOSAGE:
Two (2) BACTO REEF BALLS per 100 liters (26.4 US gal), replace every 2 weeks
Begin with half the recommended dosage to assess the specific needs of your aquarium. Place Bacto Reef Balls in a high flow area of your filter. We recommend placing the spheres in a filter bag or stocking. In aquariums without a skimmer, begin with a quarter of the dosage.
TIPS:
Make sure the balls are not placed near the suction of a pump
BACTO REEF BALLS slowly dissolve upon contact with water slowly for the next 2-4 weeks. During this time, natural bacteria, as well as a highly effective enzyme solution is introduced into the water.
After adding BACTO REEF BALLS, your skimmer performance may significantly increase. This is the first sign of an increased nutritional degradation. With increase or removal of BACTO REEF BALLS, you can determine the exact needs of your aquarium.
A general dosage can not be specified due to the individuality of aquariums and their stocking levels.
We recommend that you start with half the recommended dose and gradually add more BACTO REEF BALLS until you achieve your desired values. Check with regular water tests.
STORAGE:
BACTO REEF BALLS contain live bacteria that live in their perfectly protected gel casing and supplied. After opening, store the product in a dark and cool area.
Consume the fractured BBACTO REEF BALLS within 6-9 months of opening.
click below for further information 
https://static.faunamarin.de/Produkte/BaktoReefBalls/BactoReefBalls_Manual_engl.pdf