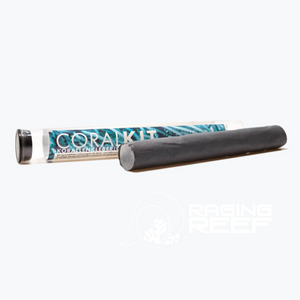 Fauna Marin Coral Kit is a black, kneading coral glue that hardens under water.
Safe glueing of coral offshoots directly or outside the aquarium, as well as for fixing decoration like reef ceramics and living stones.
Instructions for use Coral Kit:
Cut off a small piece of the Coral Kit rod.
Knead the dough with your hands until it gets warm/soft.
Press together stones, corals, etc. to be bonded with the Coral Kit. Fix it for 5-10 minutes until it is firm enough to be held by hand.
Outside the aquarium or directly under water possible!
The Coral Kit adhesive hardens within 1-3 hours.
Contents:
114 gram / 4,02 oz

ATTENTION!
Causes severe skin irritation. May cause allergic skin reactions.  Causes severe eye irritation.
Harmful to aquatic organisms, with long-term effects. Keep out of the reach of children.
Avoid inhalation and dust. Avoid release into the environment.
Wear protective gloves / protective clothing / eye protection.
IF IN CONTACT WITH SKIN: Wash with plenty of water / ...
IF IN CONTACT WITH EYES: Rinse gently with water for several minutes. Remove existing contact lenses if possible. Continue rinsing.
In case of skin irritation or rash: Seek medical advice/attention.
Dispose of contents/container in accordance with local/regional/national/international regulations.